NBA: Lakers VS Celtics and the NBA Playoffs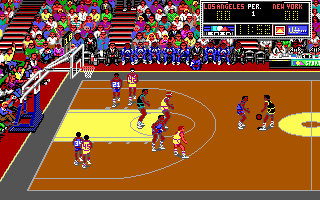 A pesar de ser muy antiguo y de su aspecto, este juego resultó muy innovador. En primer lugar fue uno de los primeros en diferenciar a los jugadores entre sí, y no solo por su aspecto físico, intentando imitar al real sino también por algunos movimientos característicos, como por ejemplo el tiro de "gancho" de Kareem Abdul Jabbar.
Ni que decir tiene, que incluía las plantillas reales.
En los partidos amistosos y a dobles la diversión estaba garantizada. En cambio, cuando disputábamos play-offs por el título, la cosa cambiaba y es que por alguna absurda razón no dejaba configurar el tiempo y ¡cada partido duraba como uno real!.